Cable manufacturer and supplier Tratos Ltd. has won the world's largest order for reeling cable for high speed cranes. The Tratosflex-ESDB cable is used in 38 ZPMC cranes at the latest Busan Port terminal in Korea. Busan Port is the world's fifth busiest container port and largest trans-shipment port in North East Asia. The port's state-of-the-art facilities allow it to handle more than 13 million TEU annually through active exchange with 500 ports in 100 countries, including the latest generation high speed container cranes.
Tratosflex-ESDB is ideal for these container cranes, which operate at speeds up to 300m/m, as it is designed to combat twisting when reeling at high speed. Twisting makes cable cores elongate unevenly which, in turn, leads to conductors on the outer layer of a strand facing a greater risk of breakages. A broken cable reeling at high speed is dangerous and can cause extensive and costly damage.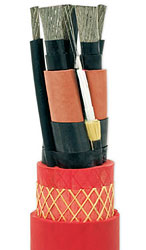 Tratosflex-ESDB is different from other reeling cables. Tratos engineers modified the internal cable design, tightening the structure against internal relative movement to accommodate high speed applications. A medium voltage rubber insulated and sheathed drum reeling cable, Tratosflex-ESDB operates in temperatures from -30ºC to +60ºC.
As you would expect from one of the world leaders in cable manufacture, Tratosflex-ESDB has undergone extensive research both in laboratory and simulated working conditions. Tratosflex-ESDB has been used in many high speed container cranes across the world, but Korea's Busan Port is not only the largest contract for this cable type for Tratos, but is believed to be the largest single order in the world today for reeling cable for cranes.
Tratosflex-ESDB is one of Tratos' range of cables for moving applications, which includes mono-spiral and multi-spiral reeling, basket reeling, festoons and spreaders. The cables can supply power, control and signalling functions including fibre-optic cables and components.